Latest Update:
19 Sep 2007
Best Viewed at 800x600 or higher
CopyrightŪ 2004 American Clipper Owners Club. All rights reserved.

Welcome to the American Clipper Owners Club (ACOC) web site. Many of the almost five thousand 21' and 24' American Clippers built between 1973 and 1980 by Irv Perch and the American Clipper Corporation still cruise the North American highways simply because the American Clippers were designed and built using excellent workmanship, materials and construction techniques.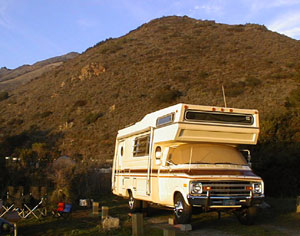 21' American Clipper near Big Sur, California
---
American Clipper Motor Home:
Overall Length: 21' or 24'
Body: Preformed Fiberglass
Chassis: Dodge or Chevrolet
Engine: 360, 400, 440
Gas Tank: 36 and/or 50 Gallons
Water tank: 40 Gallons
Hot water: 6 Gallons
Refrigerator: 6 Cu. Ft. - 3 Way
Propane tank: 50 Lbs.
The C class American Clipper was standard equipped with a large 2 or 3-way refrigerator, 4 pit stove, oven, bathroom with toilet, shower/bath, hot and cold running water, cab a/c and a hot air heating system. Coach air and generator were optional. The outside was assembled out of 5 monolithic high quality fiberglass panels which have ensured the American Clipper its fabulous looks till today.
View 21' and 24' American Clipper floor plans
---