Latest Update:
19 Sep 2007
Best Viewed at 800x600 or higher
CopyrightŪ 2004 American Clipper Owners Club. All rights reserved.
American Clipper Owners Club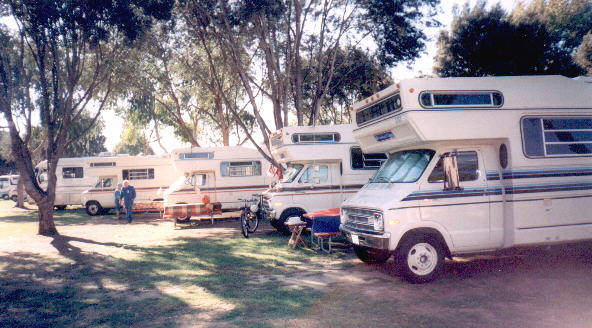 American Clippers lined up at the October 2000 National American Clipper rally in Buellton, California
---
The American Clipper Owners Club was founded by Bob and Rhea Cornwell in 1982. After 15 years and thousands of hours volunteering they are now retired from the ACOC as permanent honorary members.
Currently, with about 600 members, the American Clipper Owners Club helps Clipper owners maintain their rigs, publishes every two months a newsletter with technical information, creates this web site, stocks and sells spare parts, organizes three national Clipper rallies each year where American Clipper owners convene for potluck, technical sessions and fun.
Left: Clip Jr. (Spare parts trailer) with ACOC supply officer Mel Guerrera in background open at Buellton, California rally October, 2000.
Right: Technical session conducted by Mark Smith (L) and Mel Guerrera (R) at Buellton, California National American Clipper rally, October, 2000
---
Clippers, Clippers and more Clippers: Two pictures from the National American Clipper Rally, King City, California, Feb. 2001.
---
Also, the ACOC offers to members a binder with over 70 back issues of the ACOC Newsletter with a cross reference index for only $70. This is an invaluable resource for any Clipper owner. It contains virtually all solutions to anything that can go wrong with a Clipper as well as advice how to maintain your coach and how to modify certain features to make things work even smoother. The index helps to find the different solutions to a problem.
If you would like to become an ACOC member please click on the following link: Membership Application Form. Fill and print the membership application form and send it with the membership payment to the address on the form.
Local American Clipper Owners Club chapters at one time included:
The Bay Area Clippers
The Sierra Clipper Skippers
The Sacramento Road Runners
The 805 Gulls
The LA-Valley Sevens
The Cascade Clippers
The Evergreen Clippers
Currently, the only local chapter still active is the Bay Area Clippers. If you are interested in starting up a local chapter in your area, please email clipper@toedtoesproductions.com for contact information.
---